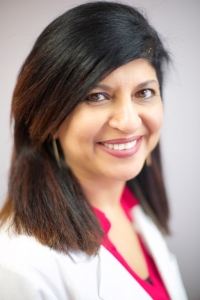 Dr. Lalita Matta is a Primary Care Physician in Marlborough Massachusetts. She received her medical degree from Mumbai University in India in 1986, and went on to do her residency at St. Vincent Hospital, Worcester, Massachusetts.  She is board certified in Internal Medicine and has been on the staff at Marlborough Hospital for more than 20 years.
She served as Chief of Department of Medicine from 2008-2009.  Following that she served as senior VP of Medical Affairs and as Chief Medical Officer at Marlborough Hospital.  In this role, she worked closely with the medical staff and the senior administration to create a partnership towards improving the standards and quality of care at Marlborough Hospital.  She also worked very closely with leadership at UMass Memorial in Worcester to increase the presence of various specialties and sub-specialties in our community.
Currently her focus is on striving to be the best in her field of primary care along with her team. She believes that the new healthcare environment offers multiple opportunities for improving the delivery of healthcare to our entire patient population regardless of their insurance coverage.  She currently serves on the Executive Committee at Marlborough Hospital and also serves on the board for the Accountable Care Organization (ACO) at UMass. In addition, she serves as a delegate for Mass Medical Society.
She believes that care coordination with the help of technology will be key factors in improving quality and decreasing the cost of health care in the future.